3D Modeling & CAD for Motorsport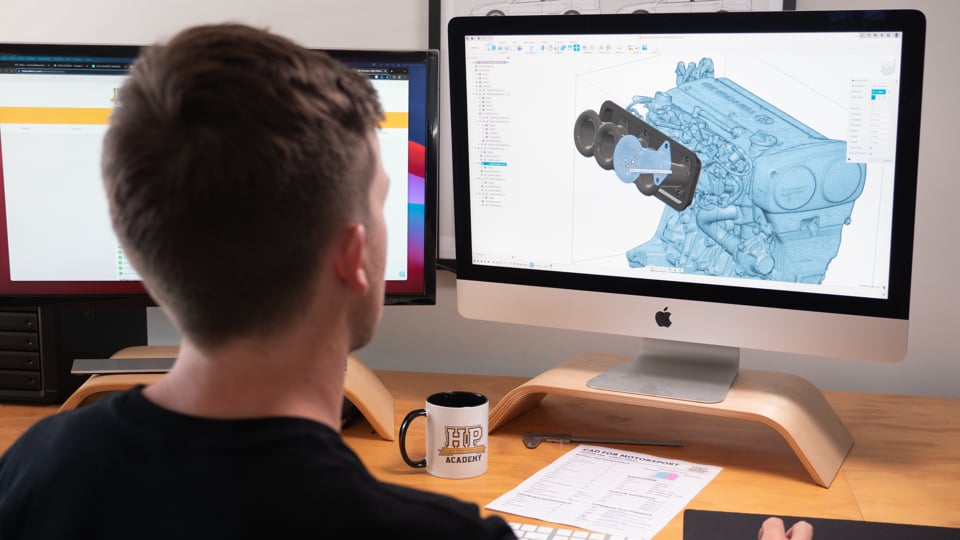 3D Modeling & CAD for Motorsport
x
Why are our online courses better than a physical workshop? (Other than being a fraction of the price.)
Start Today
Access your course instantly. Learn in order, or jump directly to the module you need.
Lifetime Access
Your course is yours for life. Rewatch as many times as you want.
More Convenient
Watch anytime, on any device. No need for costly travel or time off work.
Always Relevant
Your course is regularly updated. Stay on the cutting edge of new technology and practices.
Customized answers
Our extensive resource library, and active forum, will answer any questions you have.
Risk Free
You'll love your course, otherwise return within 60 days for a full refund.
Designing high quality, custom parts for your build is easier and more accessible than you think.
It doesn't mater if you're building a circuit racer, a hotrod, an off-road dirt-basher, or perfecting your street car project, High Performance Academy's 3D modeling & CAD for motorsport course will teach you the skills and techniques required to get started in designing lighter, stronger, and better-fitting custom parts for your exact application.
By utilizing the power of modern CAD software, you'll be able to get as creative as you want designing, tweaking, and testing the parts you've always wished existed — everything from simple brackets, to intake plenums, to complete 3D models of your entire vehicle.
In this course, you'll start by learning the basics of CAD software — that means getting a proper understanding of what it is and how to get setup and started on your first project. From there, we ensure that you have a solid understanding of the design fundamentals, which will mean that you're creating parts and equipment that are going to be strong, safe, functional, and actually able to be fabricated.
Once we've got the fundamentals of design down, it's time to jump into the software and begin creating. You'll learn about nearly all aspects of CAD software, starting from the very beginning and working our way up to more advanced features and concepts that, once mastered, are going to make you fully proficient in computer-aided design. At each step, you'll be able to follow along with the lesson on your own computer, whether that's something being built from scratch, or using a downloadable file that we've prepared earlier.
After covering both solid and sheet metal modelling, you'll then learn how to analyse your design to make sure it's actually going to work, as well as the processes needed to get your model ready for manufacture so that when the time comes, you'll simply be able to either use your fabrication skills in the garage at home or send your files to a shop and they'll have everything they need to turn your design into a real-world piece.
At the tail end of the course, you're going to find some great lessons covering 3D scanning and printing techniques, as well as a look at some advanced concepts and processes like surface modelling, generative design, FEA, and much more.
Finally, we break down the entire design process — which is everything that the course has covered — into five easy steps that you can follow, taking you from the initial planning stage all the way through to having your part ready for manufacture.
This course gives you the knowledge, skills, and techniques needed to design everything from the simplest brace or bracket, all the way through to modelling your entire project — and that's going to result in a better build with better-fitting and functioning equipment that'll stand out from everything else out there.
By purchasing this course, it's yours for life — you can watch it as many times as you like and you'll also have access to our members-only forum ,which is the perfect place to get fast and reliable answers to your design questions.
We also want you to be able to purchase with complete confidence, and that's why we offer a 60-day, no questions asked money-back guarantee. If you decide it's not right for you for any reason, simply let us know and we'll give you a complete refund.
What you will learn
How to quickly model solid & sheet metal parts for your project

To scan and measure your project to create perfectly-fitting custom parts

How to prepare your design correctly so it can be easily sent off for manufacture

To analyse your design for strength and functionality before physically building it

The fundamentals of designing for motorsport

An introduction to FEA, generative design and computer aided manufacturing